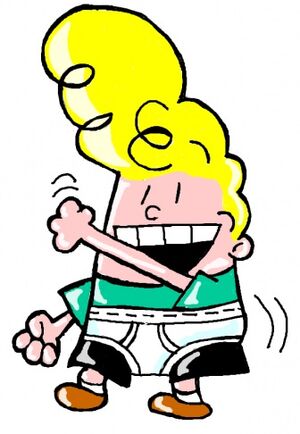 Harold Hutchins is a fourth grader at Jerome Horowitz Elementary School and one of the main protagonists of the Captain Underpants series.
Role in the Series
Edit
Like George, Harold has appeared in all of the Captain Underpants books. In the first book, he and George hypnotize their principal in order to escape consequences of blackmail. However, they accidentally make him believe he is Captain Underpants, although this proves useful in stopping evil villans, which George and Harold often accidentally create.
Character Description
Edit
Harold is described at the beginning of the books as "the one on the right with the T-shirt and the bad haircut," True to this description, Harold usually wears a T-shirt and has a bad haircut.
Harold lives in Piqua, Ohio with his mom and sister Heidi. He has five pet goldfish, along with a bionic hamster named Sulu and a pteranodon named Crackers, which he shares with his best friend George. Harold is 10 years old. He is a good-natured prankster and is the illustrator of the "Captain Underpants" comics. Although he and George are incredibly similar in personality, Harold does not create big plans as often and is more timid than George. Due to his mischevious personality, some of the teachers consider him ADD or ADHD, although his principal Mr. Krupp considers him just BAD.
Relationship with Other Characters
Edit